Photo enhancement services are perfect for correcting any flaws in your photographs, saving you the time and hassle of re-taking your shots. Pictures got you down?
Not quite happy with how your photos turned out? Did you take your images of something you can't easily find again or in a location that's difficult to get back to?
Don't worry! CPC has your back.
CPC is dedicated to providing the very best photo enhancement service for every project we work on. We believe in giving every single one of your images the individual attention it deserves.
Our professional photo retoucher carefully goes over each change by hand to ensure that your image comes out the very best.
Image Enhancement Service at Clipping Path Center Inc.
Photo Enhancement for Everyone
We believe in providing quality and professional service for everyone. You don't need to be a movie director or magazine editor to have professional photo editing.
We offer accessible service and on-time delivery for individuals and small businesses worldwide. Besides, We understand that this might not be something you do every day, and we're more than happy to accommodate the unique requirements of your project.
Moreover, We work with all image file formats, including raw images from your camera and compressed formats like PNG, JPG, GIF, and TIFF.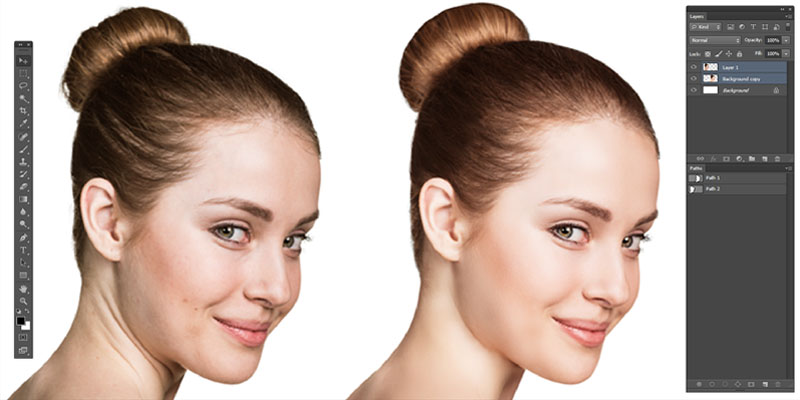 Our Image Enhancement Service Includes:
Facial Retouching
Make everyone in your image look their best! Our skilled photo retoucher can enhance features, clean up dust and blemishes, improve skin tone, among other things!
Color Correction
Does your image suffer from poor exposure or lighting? Is there a nasty tint? Not sure your color palette captures the right mood? We can help!
Photo Background enhancement
Whether your photo background is too distracting or too dull, our well-trained photo retoucher is here to help. We can make color corrections, add depth-of-field, sharpen your background and even replace the whole thing with the image of your choice!
Black and White to Color / Duotones
Ready to get creative? Our professional photo retoucher team can help turn your photos from boring pictures into striking works of art.
Photo Enhancement Service Brings Out The Best
Mae West once said, "Look your best — who said love is blind?" When it comes to graphics, she couldn't be more right. There's no reason to present flawed or mediocre photographs — especially when it's important. Images are used to support presentations at work, sell products online, and even impress friends and family members. Having a stunning enhanced image instead of a lackluster, unedited shot can make all the difference when it comes to making an impact on those around you. Don't let these opportunities to pass you by successfully!
Here are some things enhanced images can help you do:
Impress your boss with how stunning project photo look
Sell or advertise your products online like Amazon and eBay.
Make the right impression on a social website
Show off to family and friends
Remember that perfect moment a little more brightly
… and even more! Our photo retoucher is on standby to answer any questions about the specifics of your running project.
Creative Edits Can Be Your Ally
Our digital image enhancement can be used for more than subtle touch-ups. We can assist you in all sorts of creative enterprises, from assembling a digital composite using multiple source images, to showcasing your eCommerce wares in just the right way. Our expert Photo Retouchers are capable of sweeping changes, like objects removing and background removing, as well as subtle edits, like tweaking a color curve just a little to bring out your model's eyes. We have the know-how and the experience needed to work on your project and deliver the very best results.
We do provide Clipping Path, Photo Masking, Color Correction, Photo Retouching, Background Removing, Clipping Mask, Deep Etching, Image Manipulation and other Photo Editing Services throughout the world.
Quality Photo Enhancement Services with Affordable Prices
With economic rates and shockingly fast delivery, CPC is an industry leader. Moreover, our commitment to personal attention to every project sets us far above the pack. We're not content to get your business just once — we want you to come back to us for years to come for all of your photo enhancement and any photo editing needs!