People have been fascinated by cars from the beginning when the first car was invented. That craze has increased rapidly in this new generation as many companies launch new cars with new models with each passing day. To make those cars reach the commoners, advertising them is important, and car photo editing plays a vital role.
The editing and retouching process enhances the look and appearance of the car from the image. In addition, it creates more appeal in the mind of the car buyers, audiences, and car brand owners. So, as a car photographer, or car seller, editing the raw car images is mandatory.
What is Car Photo Editing?
It is an obvious question to pop up in your mind about what car image editing is and its importance. The whole process is an advanced image processing technique for providing an attractive look to the car. All the necessary objects in the image, whether small or big, will be perfectly enhanced through editing.
In maximum cases, the raw car images look quite dull and less attractive. Therefore, those raw images shouldn't be used for car advertising or showing in front of audiences. If it has a palish look, the audience won't attract to the car image. To prevent this disaster from happening, editing the car photos becomes highly crucial.
Photoshop is the medium of editing and retouching the car images for providing an attractive look to catch the audience's eyes. This software offers a vast collection of various useful tools to fulfill this editing and retouching task. Therefore, taking the Photoshop editing services from professionals is highly recommended if you are willing to use the car image for commercial purposes.
Why CPC's Cars Photo Editor is the Best
The number of editing service providers is also increasing because of the growth of necessity in the car advertising sector. With keeping full respect for them, there is no match or competition between them and our editors. The editors from CPC are the best in this sector of editing and retouching car images.
CPC's editing team has both young and veteran editors for car image editing. A combination of editors from two different generations brings stability to the team. As a result, every project completed by our editors gets the touch of creativity and perfectness. The common thing about all our editors is, they are highly professional because of their years of training.
Clients worldwide have taken the car editing service from CPC's best editors because of their top-class editing skills. As a result, we always have completed the projects of all the clients within the given time. That's why our clients also showed their love and faith to us by rating our editors with positive reviews.
What CPC's Cars Photo Editor does to Improve the Car Photo?
CPC's experienced car photo editors use Photoshop and various suitable tools to improve the car photo. Because of their enormous experience and skill, they know which tool to use on which occasion and for which images. From correcting the car colors to replacing car backgrounds, our editors can do all of them.
They also fix the car photos' shape and prepare them for online and offline showcasing. Adding various shadow effects, wrinkles and stain removal, and polishing is also present on the to-do list of our editors. While editing and retouching work, the editing team focuses on keeping the highest image quality and resolution.
CPC's editors use the "Pen Tool" and "Quick Selection Tool" for background replacement based on the situation. For tasks like smoothening and refining, our editors use "Dodge Tool," "Burn Tool," "Brush Tool," and "Refine Edge Brush Tool." They also use some more tools and methods to get their job done.
Now, let's look closely and in detail about what CPC's editors do to improve car image look and appearance:
Car Clipping Path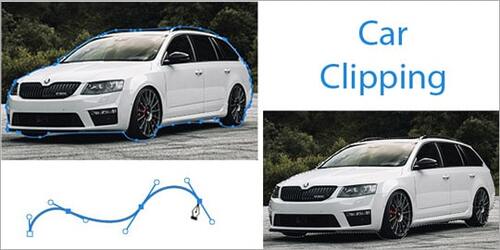 To remove the unwanted objects from the car images, the editors from CPC use this clipping path method. They also use it to get rid of the unpleasant or dull backgrounds of the cars. The motto of using this method is to free the car from unattractive, dull, pale, and lifeless parts.
The editors first isolate that area by creating selection all around and then remove it for removing any part. They mainly use the "Pen Tool" and "Quick Selection Tool" to complete selecting. Sometimes, they also use the "Objects Selection Tool" for the process.
After detaching any object, CPC's editors refine and smoothen the edges as well for an authentic look.
After applying the clipping path method, they also polish the car image for commercial usage. In this way, your car image will become spotless, stain-free, and free from unwanted objects and background. In addition, it will provide a clean look to your car image, which you can showcase online or offline for car advertisements.
Your customers will get attracted to those clean car images if you are a car dealer. If you are a commoner and willing to sell your car, applying this method to your car image will also be helpful.
Advantages:
Removal of unwanted parts and dull backgrounds
Clean and polished car images
Customers and viewers interest will grow seeing clear car images
Car Photo Background Removal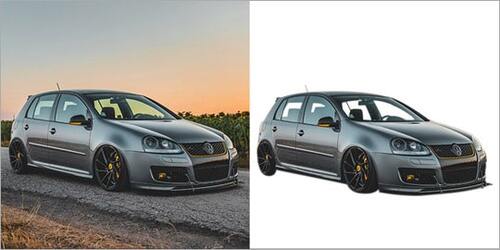 Background removal is one of the most crucial tasks to complete for car image processing. It becomes more important if you are willing to use the image for advertising, showcasing, or commercial purposes. Our editors isolate the car first by creating a selection all around it to eliminate the unwanted backgrounds. Then they eliminate the background.
Sometimes our editors prefer to select the background and inverse the selection for background removal. Elimination of the car photo background opens up many windows for editing and exploring. We will keep your car image transparent if you need it. There is an option of adding new and catchy backgrounds if the image requires it.
But for commercial usage, our editors suggest adding white background behind the car. When our editors add white backgrounds, the car itself gets much more focus and attention. As a result, your customers will get a good overview of the car, instigating them to purchase cars from you.
If you are an automobile photographer, exhibiting your captured car images with white backgrounds will attract more viewers. Your clients will also be satisfied with your captures by seeing the white backgrounded car images of the cars from their brands. Whether you use the car image, background removal and adding white background will be beneficial.
Advantages:
Soft, fresh, clean, and attractive car image tone
Smooth car edge finishing for a smooth look
The appearance of your cars will be more appealing in front of the audiences
Car Photo Shadow Effects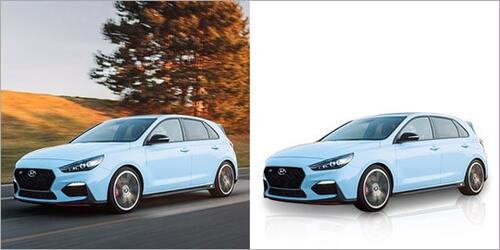 After removing the plain backgrounds, your car may look unreal on the new background. It won't be a good idea to keep the car image like that as it can negatively impact the viewer's mind. Instead, applying some shadow effect all around the car body and on the background will help achieve an authentic look.
Photoshop offers various shadow effects to apply to your car images. Applying natural shadow, soft shadow, or blending shadow will provide an authentic look to the car. For bringing authenticity, our editors apply to drop shadow and reflection shadow as well. They also vary the shadow opacity to adjust it with the car and background.
The best editors from CPC apply those shadows correctly via Photoshop. Showcasing the car images with natural shadows will create a positive impression on the viewer's mind. The customers will persuade to purchase those amazing-looking cars after seeing them. It will be beneficial for you if you are a commoner and advertising to sell your car.
By taking CPC's shadow effects service as an automobile photographer, both your audiences and clients will be impressed with your captures. In all scenarios, CPC's shadow effects application service will be beneficial for expanding your business.
Advantages:
The more realistic look of the car
Enhanced customer attraction
Client's appreciation for fantastic captures with perfect shadows
Car Retouching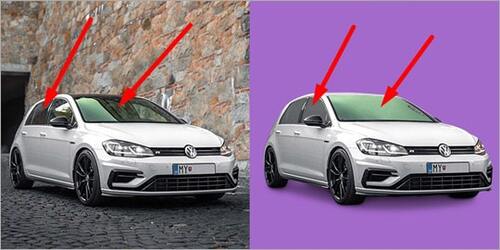 Car retouching is the most complex and time-taking task of the whole car image editing process. It consists of more than one retouching method and several tools which depend on the image demands. CPC's best editors take care of even the most minor details from the car image. Our editing team makes every part of the car look smooth.
They use the "Dodge Tool" and "Burn Tool" for completing the smoothening task. Then, using the "Healing Brush Tool," they eliminate wrinkles, stains, and glare from the car body. Because of that, your car image will look shiny and polished. As car photo retouching comprises so many aspects, the whole car body becomes much attractive.
CPC's expert editors also refine edges of the objects using the "Refine Edge Brush Tool." They make sure your car images looking top-notch level appealing in front of the audience. Customer's interest in your cars will increase as well by seeing those perfect retouched car images.
Audiences with different mindsets will also like your captures when you take our service as a professional photographer. For example, you may be working with any automobile company as their photographer. In that scenario, you can satisfy your clients with your captured images which we have appropriately retouched.
Advantages:
Polished and shiny car images with zero spots
Perfect smoothening of the car body and edges
Growth of customer's interest in your cars by seeing properly retouched car images
Car Color Correction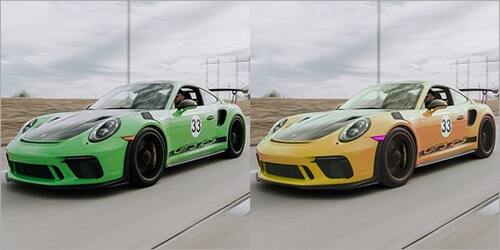 Color correction on clothing images can turn any dull photos back to life. The color tone adjustment, brightness, and contrast adjustment are the essential parts of color correction. Moreover, our editors also make exposure adjustments and color temperature adjustments for the process. As a result, an
Most of the time, the raw car images cannot show the actual color of the cars. As a result, that paleness of the car body will kill customer's and viewer's attraction to your cars and car images. But this is not expected, and CPC's professional car photo editors offer the color correction service to get rid of this.
By adjusting the color tone and brightness of the car photo, our editors start the proceedings. Correcting the image exposure and color temperature is also included in the color correction process. Along with making the car look more contrasty and saturated, CPC's editing team also adjusts the image clarity.
Through color correction, the authentic color tone enhances, and it provides the car a stunning look. Then you can either exhibit the image in front of viewers or showcase it on eCommerce websites. On both occasions, the audiences will get attracted to your car images on which we have applied the color correction method.
The appealing car colors will motivate the customers to purchase the cars whether you want to sell as a commoner or car dealer. In addition, your clients will be happy with the appearance of your captures when you will take the car color correction service from CPC.
Advantages:
Enhancement of the original colors of the car image
Perfect image saturation with a clarity adjustment
The car will become proper contrasty with white balancing
Car Image Cropping and Resizing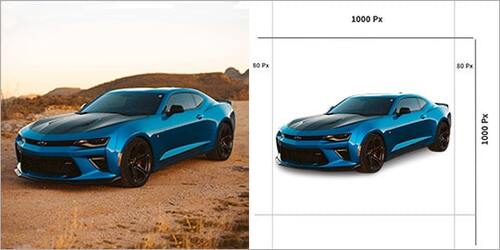 When the car image shape is not up to the mark, you won't look suitable in the viewers' eyes. That's when the shape correction of the car image comes into the game. CPC's best professional editors use the "Crop Tool" to adjust the image shape.
This tool is necessary for eliminating some unwanted parts from the sides of the car images. In addition, showcasing the photos with proper shape and size will be beneficial for you.
Keeping the resolution high with decreasing the image size is another important task that our editors focus on.
When the image comes with proper size, shape, and alignment, the viewers can have a better overview. In addition, a higher resolution will let them inspect even the most minor car details by just seeing the image. Also, as the image size will be relatively small, it will take less time to load on eCommerce websites.
Thus, customers will love to see all of your showcased car images and pick one from them to purchase. In addition, common audiences will like the car images, which are properly shaped and resized by CPC's car photo editors. So, taking car image cropping and resizing service from CPC will be beneficial.
Advantages:
Properly shaped and resized car images
It will take less time for the customers to load car images on your eCommerce websites
Higher image resolution will provide a better overview of the cars
Benefits of Car Photo Editing
Whether you are an automobile dealer or brand owner, you can take our car image editing service. As a professional photographer or a commoner, we are also open to your services. The benefits of taking CPC's car image editing service are:
Growing Trust
When you showcase authentic car images edited by CPC's best car photo editors, customer's trust will grow in you. Shiny and polished cars from the pictures edited by us will attract more customers. When the customers find out cars with the perfect condition, as shown in the images, their trust in your brand and shop will increase.
Sales Booster
Taking car image editing services from CPC's best editors will work as the sales booster for you. For example, if you are a car shop dealer or car brand owner, your sales will increase because the customers will become interested in your cars by seeing the images edited by us. On the other hand, you may be a professional automobile photographer.
Your clients and viewers will be impressed by seeing your captured car images that CPC's editors edit. So, your brand value as a photographer will increase because of this.
FAQs on Car Photo Editing
Why is it essential to apply the retouching process on the car images?
Customer's interest always goes on the shiny, polished, and catchy-looking products. Cars are no different, but the raw car images will never attract neither viewers nor customers. That's why retouching those car images becomes way essential. CPC's editors adjust clarity, brightness, saturation, ambiance, and contrast to fulfill the retouching tasks. 

As the editing team from CPC does the retouching work, the cars from the images become polished, shiny, and appealing. That's why retouching the car images bear this much importance.
How does car image editing help to grow or affects businesses?
If you are a car shop dealer or a brand owner, showcasing perfectly edited car images will attract customers. As your sales will increase because of this, your car selling business will grow at a rapid pace. On the other hand, when you are a professional automobile photographer, taking CPC's car image editing service will save you time. 

When your captured images are perfectly edited and retouched by our editors, both your clients and viewers will be impressed. As a result, you will get more new projects, and your photography business will expand.
Will my car images remain safe and secure if I take CPC's car image editing service?
The client's safety and security is the top-most priority in CPC. Therefore, we always keep the car images safe and never let them reach the hands of an outsider. That's why none except our editors will even see your car images as long as they are at our hands.  

After project completion, we deliver your images to you by following a strict image transfer protocol. So, you can remain fully tension-free about the safety, security, and privacy of your car images.
Final Thoughts on Car Photo Editing
You may wonder why to take CPC's car image editing service when other editing platforms are available. Then I will say, the professionalism and project quality CPC's best car photo editors offer, you will get nowhere else. We ensure your images look top-notch from every angle while showcasing on different platforms.
If you are a car dealer or a car brand owner, you should take our editing service to attract more customers to your cars. As a professional automobile photographer, our car photo editing service will help you to impress your clients and audiences.