Men and women both use different hats and bags for fashion and carrying purposes. Many companies offer bags and hats with different models and designs. The online business of these products is getting popular by the owners of those product companies. To sell those products online, showcasing them with catchy advertisements is highly essential.
For catchy advertisements, catchy hats and bags images are a must. You shouldn't use those products' raw images, which is why CPC is offering both hat image editing and bag photo editing service. CPC's best photo editors will make those products look catchy and appealing by effectively using Photoshop and its tools and methods.
What is Hats and Bags Photo Editing
You may wonder about what is hats and bags photo editing and the necessity of this service. Photoshop is the medium of editing the raw images of the hats and bags of various models. The editing team from CPC applies multiple image processing techniques to make the bags and hats images look catchier.
Hats and bags are highly desired by the commoners for fashion and carrying causes. However, as the raw images won't be appropriate for online and offline advertisements, retouching them is necessary. From replacing the backgrounds of hats images and bag photos to color correction in those products, all are different sections of the editing process.
Proper retouching will make those product images look catchier. Those properly edited images will be prepared for use in eCommerce websites and other online platforms for selling. The cute hats and bags images will attract more viewers and customers whether you advertise online or offline.
Why CPC's Hats and Bags photo editor is the Best
The online marketplaces of bags and hats are expanding at a rapid pace. As a result, the photo editing service providing companies with those product images is also increasing. No disrespect to other companies, but there is no scope of comparing them with CPC's editors. Because, at CPC, we have the team of best editors in this product image editing sector.
Our editors are "Pro" in Photoshop. They can effectively apply all its methods and tools to retouch the bags and hats. Our editors are the best at image editing services by making them look shiny and clean. Their professionalism is present at bag photo editing, as they can make any bag look appealing and sparkling.
In our team, we have editors who are vastly experienced in this product image editing sector. But, along with them, there is the presence of many young and talented editors in our team for bringing stability. Because of that, our editors are constantly praised by our clients.
What do CPC's Hats and Bags photo editor do to improve the Hats and Bags Photo?
There is a collection of skilled, talented, and experienced photo editors in CPC's product image editing team. They know which Photoshop tools and methods to use effectively on which hats or bags images. It makes their editing work almost errorless and results in perfectly edited bags or hats images.
We prepare those product images through excellent editing and retouching processes for you to use in eCommerce websites. Our editors are masters at resizing and shaping the hats from the photos to remove their backgrounds. They also perform tasks like eliminating reflection from the bags and shadow application to make those products catchy.
Our editors carefully remove all the stains, dark spots, and dirt from hats and bag images. The tools like "Pen Tool," "Dodge Tool," and "Burn Tool" are used mainly by our editors to achieve the desired result. Now, it's time for you to dive in deep about which premium services are available from CPC's editors.
Hats and Bags Clipping Path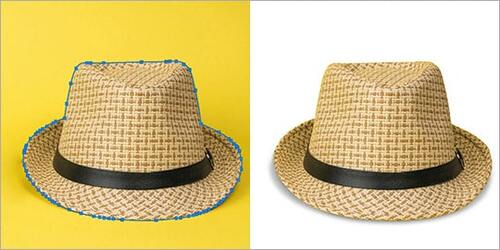 It is always best to use a clean and fresh product image for an advertisement. That's why the clipping path method is crucial to apply in both the hats and bags photos. This method helps to eliminate the unwanted parts and objects from the product image. In Photoshop editing, this closed vector pathway plays a significant role.
Our editors in CPC access this method through the "Pen Tool." They make a selection all around the unwanted area of the bag image and then eliminate it from the frame. Then fill that empty place by using the "Clone Stamp" tool. After that, they smoothen the edges of the bag or the parts related to it for a better look.
The editing team can eliminate the dull and lifeless backgrounds from the hat's image through this method. After applying the clipping path, our editors do some retouching work to make the products look shiny and clean. Using a sparkling handbag or travel bag image on eCommerce platforms will be a whole lot effective.
Customers will also get attracted to the clean and shiny hat images, whether Panama, a Cloche hat, or a baseball cap. So, hats and bags clipping path service will come in handy for you as a business person of those products. As a product photographer, our service is open for you to help you impress your clients.
Advantages:
Spotless hats and bags images
A clean and better view of the hats and bags for the customers
Availability of clipping path service to all hats, caps, and bags images
Hats and Bags Background Removal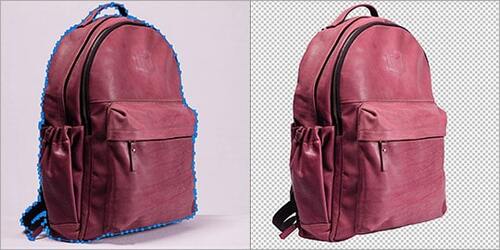 If you are showcasing your products online, the first rule is to use a white background. This rule also goes for the bags and hats images that you will exhibit on your eCommerce website. But before doing that, background removal is vital whether that image contains hats or bags.
Our photo editors use "Pen Tool," for background removal. They use those tools based on the complexity of the hats or bags and their background. After eliminating the background, our editors attach a white background behind the handbag or travel bag in the image.
The same goes for hats of different types starting from Floppy, Western, or Beret. After plain background removal, CPC's editors prepare the bags and hats images for online showcasing by adding the white backgrounds. As a hat and bag company owner or dealer, you will be able to attract more customers in this way.
The customers will get a soft and clean overview of the bags and hats because of the white background. It will instigate them to buy those properly showcased stunning bags and hats.
As a product photographer, exhibiting soft background images will help you to impress your clients and viewers.
Advantages:
The opportunity of having a transparent background
The soft and clean white background of the bags and hats will be refreshing
Helpful for sales and business expanding
Hats and Bags Photo Shadow Effects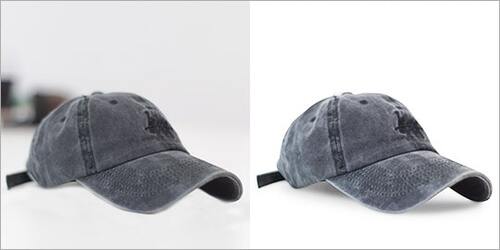 Shadow effects application is a mandatory task after attaching a white background behind bags or hats. Shadow of a hat or a bag before the white background provides that bag or hat a realistic look. Reflection Shadow and Drop Shadow are mainly used to enhance the authenticity of the hats or bags in the photo.
Our editors apply some other shadows, like Natural Shadow, Blending Shadow, and Soft Shadow. They all have proper usage based on the handbag's or travel bag's positioning in the image. For the hats, CPC editors mostly use the Drop Shadow and Soft Shadow.
Applying those shadows is a must before presenting them in front of the customers. Our editing team mainly applies reflection shadow to female handbags for a sparkling look. On the other hand, travel bags require a drop shadow for a rugged look. The editors use drop shadow or blending shadow for Newsboy, Boater, Flat hats, and baseball caps.
When the showcased bags image contains realistic shadows, customers will love looking at them. The customers will instigate buying hats and bags from your brand when their trust increases. It will help you expand the sales. Exhibiting authentic hats and bags images with proper shadows will increase your popularity and projects as a product photographer.
Advantages:
Authentic look of the bags and hats
Enhancement of customer's trust
Sales expansion
Hats and Bags Retouching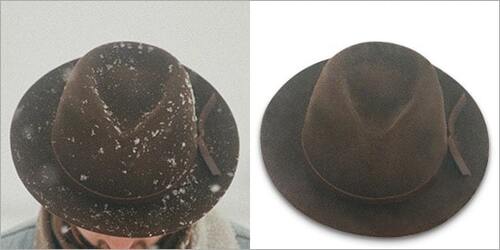 Retouching the hats and bags from the images is a vast and most time-consuming task. It includes eliminating small spots, stains, wrinkles, and dust particles to exposure correction of those products. Our editors provide a shiny and polished look to all the bags from different models.
The hats also look outstanding after the retouching process done by CPC's editors. There can be stains, wrinkles, or glares in the hat body. Our team eliminates those defects by using the "Healing Brush Tool" and makes the products smooth. The handbags require a shinier and polished look, which our editors provide by using "Burn Tool" and "Dodge Tool."
You need to showcase those spotless and shiny bags and hats on your eCommerce website. By seeing those stunning bags and hats, customers will visually present how those products will suit them. The sparkling bags and polished hats will attract more customers and inspire them to purchase those products.
You can do offline advertisements as well by using those properly retouched bags and hats by CPC editors. The CPC editing team is ready if you are a product photographer and looking to retouch your bags and hats images. Either you exhibit your captured images or do any client's project, we will provide you the best retouching service.
Advantages:
Fresh and polished hats
Sparkling and glowing handbags and sturdy looking travel bags
Better visualization for the customers
Hats and Bags color Correction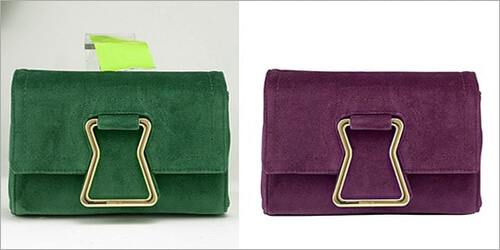 You shouldn't use pale and yellowish raw images of bags and hats. By seeing those lifeless product images, customers will demotivate to buy products from your company. That's why our editors focus on making both the hats and bags look lively through the color correction process.
The editing team adjusts the brightness and saturation of the handbag or other fashionable bags in the image. They also fix the color tone of those bags to provide an appealing and sparkling look. In addition, CPC's best photo editors adjust exposure, clarity, and color temperature for the hats of different models.
Our editing team also focuses on white balancing in the hats images to better visualize your viewers and customers. As a result, the products you exhibit will look stunning and much appealing. In addition, you will get tremendous customer response by showcasing the properly retouched bags and hats pictures.
Because of that, your sales will increase rapidly, and CPC's editors are happy to be the unsung heroes behind your success. Your clients will highly approve your captures if you are a product photographer. Whether you are a bags and hats business person or a product photographer, our service is open for you at an affordable rate.
Advantages:
Affordable pricing for hats and bags color correction service
Proper white balancing and exposure correction
Color tone and clarity adjustment
Hats and Bags Cropping / Resizing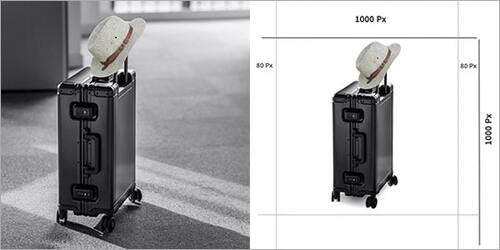 No matter the subject of the image, the image needs to be straight and contain only the related objects. The size of the image also matters highly for use at the online selling platforms. Our editors use the "Crop Tool" to fix the shape of the bags and hats images and make them straight.
While doing so, they eliminate the unwanted parts and objects from the image sides. The proper size of those product images is highly crucial for using on eCommerce websites. When the image size is large, it will take more time to load, which will kill the customer's impression.
That's why our editors are providing the resizing service for those images. While resizing the image and making it smaller, our editors also focus on keeping the resolution high. As a result, the hats and bags containing catchy photos will take less time to load.
Because of the higher resolution, customers can zoom the image and better understand that particular product. In addition, it will motivate customers to fall in love with either the bags or the hats and purchase them.
As a photographer, your audience will also like the images that take less time to load with higher resolution and are nicely cropped.
Advantages:
Elimination of unwanted side parts
Higher resolution with less loading time
A better overview for the customers
Benefits of Hats and Bags Photo Editing
Using the raw images of hats and bags for advertisements won't be helpful for you as a business person or a photographer. Because, in most of the cases, the raw images look dull and lifeless. Sometimes, an exotic product doesn't get attention because of the unedited photo.
It is impossible to attract customers and viewers with those raw images. That's when hat image editing and bag photo editing are necessary, and let's see the benefits of them:
You will get appealing and sparkling images of the bags and hats of your brand because of CPC's editor's editing
With catchy product images, you will be able to catch the attention of your audiences
Because of the stunning hats and bags images, you will have better sales, and it will help to build your brand
Customers will start trusting your company
As a product photographer or a hats and bags business person, the editing service from CPC will be time-saving for you
You will get new projects if you are a professional product photographer because of the lovely photos
Who needs Hats and Bags Image Editing?
There is a massive demand for bags and hats worldwide, and many companies are selling those products. To make the advertisements of the hats and bags of their brand, they need this image editing service. Mostly, those company owners, shop owners, or dealers require the hats and bags image editing service, and they are our major clients.
Alongside that, professional product photographers also take the bags and hats image editing service. It helps to expand their reach, saves time, and gets new projects quickly.
Why Choose CPC's Hats and Bags Image Editing Service?
The benefits and services that you will get nowhere except CPC while making hats and bags image editing service are:
CPC's editors complete each project within the deadline provided by the client
You will get the heartiest behavior from our editing team that will make you feel like a family
There will be many details on the hats and bags while editing or retouching them
The skilled and experienced young and veteran editors always keep the image editing quality high
Less price with all the premium services
A strict privacy protocol is maintained by all CPC's editors while taking and delivering your project
FAQs on Hats and Bags Image Editing Service
Which editing services will I get from the editors of CPC related to my bags and hats images?
When it comes to bags and hats image editing, CPC offers many premium services related to that. Application of clipping path, shadow effects, and background removal are the most asked services by the clients. Along with that, our editors also do shape fixing, resizing, color correction for providing an appealing sparking look to the bags and hats.
Will I get my project completed within the deadline I provide?
Yes, our editing team always completes the projects within the deadline. They never delay, but the restriction is that you will have to give us at least 48 hours to complete any project. While quickly completing the bags and hats image editing task, our editors never compromise with the editing quality and resolution. 
What about the safety, security, and privacy of the hats and bags images I will provide for editing?
You won't have to tense up a bit about the safety, security, and privacy of your hats and bags images. We never let your photos fall into the hands of any third party or other outsiders. While receiving pictures from you and delivering them to you, CPC always follows a strict SSL secured image transfer protocol.
Final Words on Hats and Bags Image Editing Service
Hat image editing and bag photo editing can be a real deal-breaker for your bag and hats business. But you shouldn't waste your time editing them by yourself, whether you are a business person or a product photographer. You should always take professional Photoshop Services, and CPC's editors are here to help in this matter.
Highly experienced and skilled editors from CPC will make your hats and bags' image look appealing and sparkling. When you showcase them on your eCommerce websites, the customers will get immensely attracted to purchasing. It will expand your sales rapidly. As a product photographer, you can take our hats and bags image editing services for your viewer's and client's satisfaction.