Would you like to know how to create a ghost mannequin effect in Photoshop? If you would like to know about creating a ghost mannequin then you are in the right place. And I'm here to show you the right way how to do that work by using Adobe photoshop. In this tutorial, I will use the two images (front and inside of cloth) for illustrating the ghost mannequin.
Moreover, explain how to combine them in a single 3D hollow image by using the ghost or invisible mannequin techniques. The inner photo doesn't match the above requirements so you can learn how to work with less than ideal images.
Get The Best Pictures To Create A Ghost Mannequin Effect in Photoshop
In Photoshop, it will be easier to create a ghost mannequin effect. While certain sellers have particular invisible models, many of us need to depend on regular models and on the techniques that I explained in this tutorial. For making an invisible mannequin a photographer needs to follow these tips which I have given below:
When you are using a model ideally a mannequin, you need to ensure that the dummy's arms are hanging down and the legs are uncrossed. 

Therefore, clip back long hair or jewelry to cover the actual dress.

When shooting interior clothing, keep your camera and light in the same spot.

Place your clothes on a whiteboard or foam core piece and stand on the board at the same height and position as a model to ensure better lighting.

Choose neutral with simple backdrops. The best thing is a black, white, or light gray backdrop which is not reflective.

Our research of the world's top online fashion brands found that over 94% are plain and friendly.

Until shooting, iron, or steam garments and ensure that clothes fit correctly on the model free of folds or gaps.

On the other hand, don't put your camera above the product, looking down. 

When you shoot the clothes from the wrong angle it will distort the product. And several post-processing tasks are required.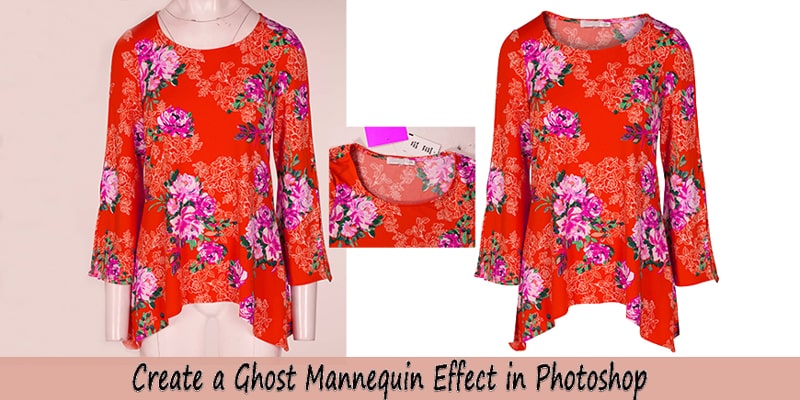 In an ideal scenario, You would have ultimate control over the shooting of your cloth photography. Nevertheless, you can still produce an invisible mannequin impact in Photoshop. This is a common technique of Photoshop editing services for cloth image background removal.  The following tutorial demonstrates an intangible model technique that works both in great photos and not-so-good ones. You can also put your picture on a color background using this unique Ghost Model application.
Step By Step Tutorial to Create Ghost Mannequin
I'm going to use the pictures below for our front and interior garment for this Ghost Model tutorial. And demonstrate to you, How to use the Ghost Model Method to combine it? Remember that the interior picture does not adhere to the above criteria, so you will learn how to work with photos that are not so good.
Step 01: Open Image File in Photoshop (1st image)
Firstly, crop the image so that you should have a minimum background that can be visible from the back of the product. Using the Crop tool is the easiest option to do this. Select the Crop tool from the toolbar placed on the left side of the Photoshop window screen. Create a layer by pressing Ctrl + J.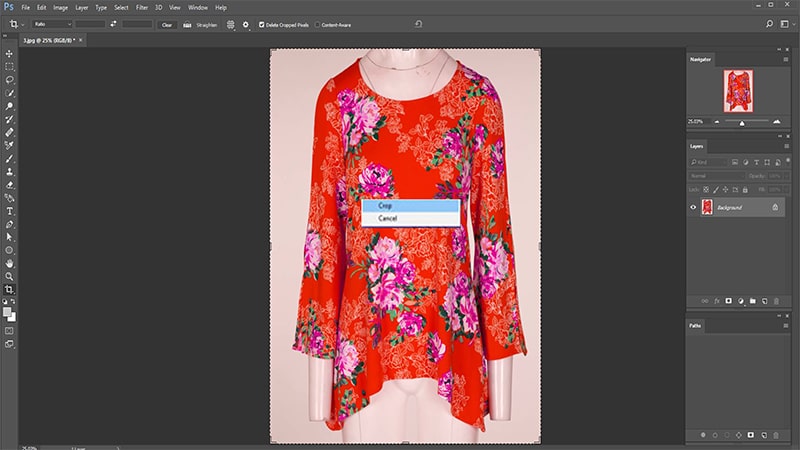 Step 02: Start Selecting Edges using the Photoshop pen tool
Now you need to start cutting off the mannequin as well as the background from the product. It would help if you chose Pen Tool |(clipping path) from the toolbar to complete this step.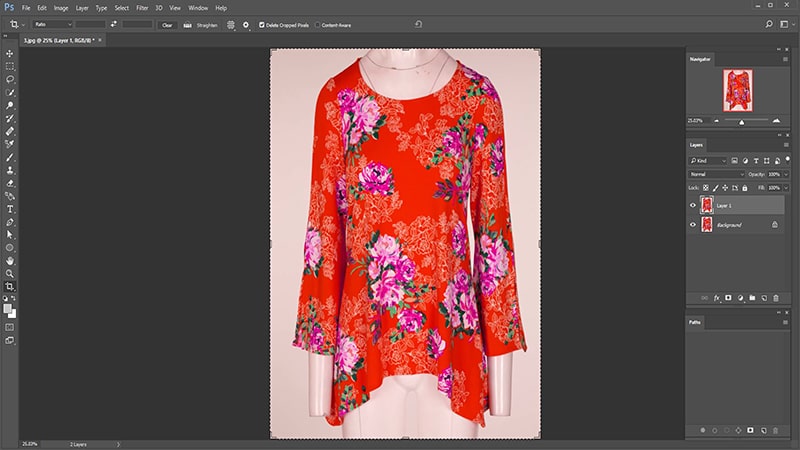 Step 03: Starts From the Collar line
Start from the upper part of the collar from where the mannequin neck begins and continues downwards till the mannequin's neckline. Do this slowly and efficiently in order to get your way along the collar line.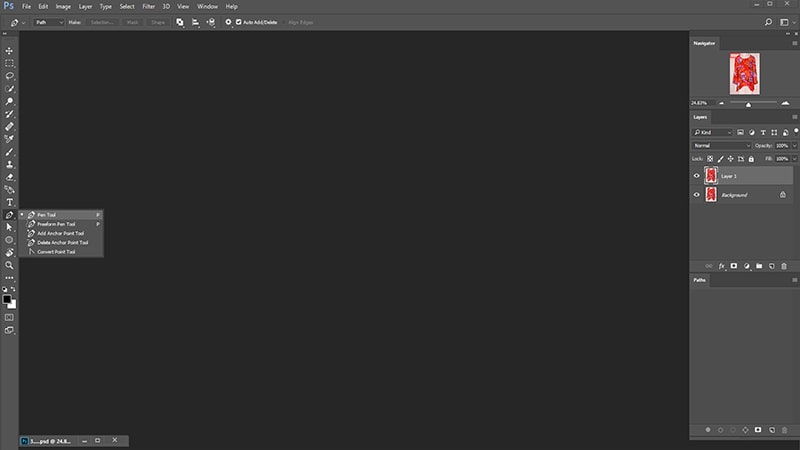 Step 04: Selecting the rest of the cloth carefully
After completing step 04, continue the same procedure for the mannequin legs and complete generating a path to the next portion connecting it when you see the "O" sign.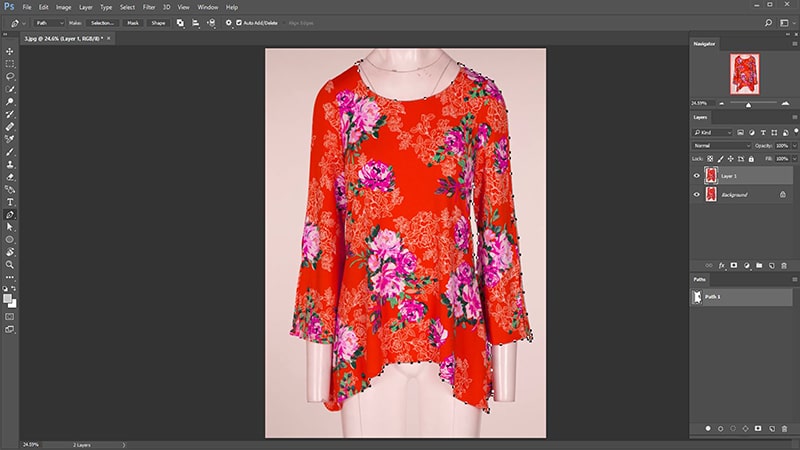 Step 05: Inverse Selection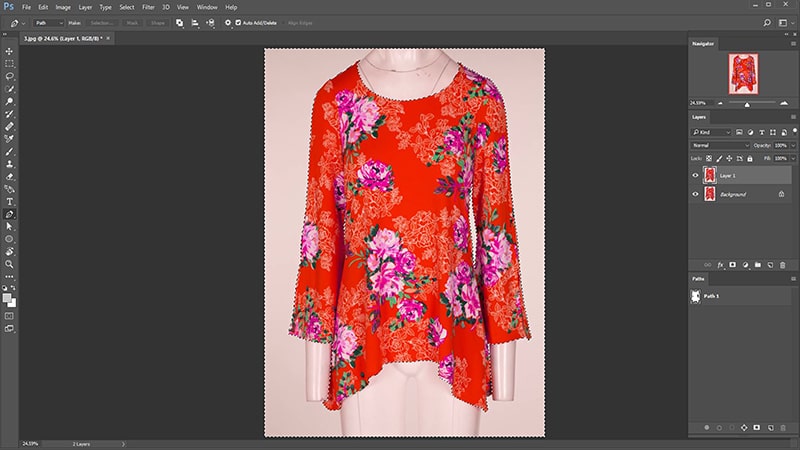 To create a palette path, press, and hold Ctrl. Choose paths inverse selection and delete the background.
Step 06: Open the inner side Photo (2nd Photo, Neck part)
The next step is to open the inner side of the product to crop the collar area.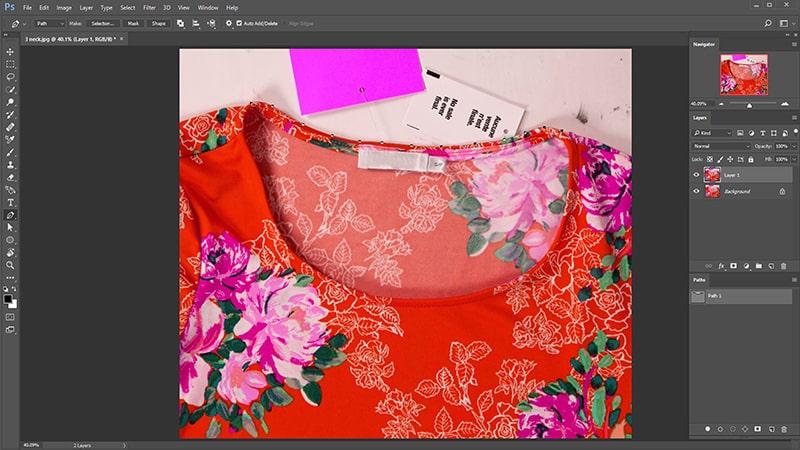 Step 07: Combining both images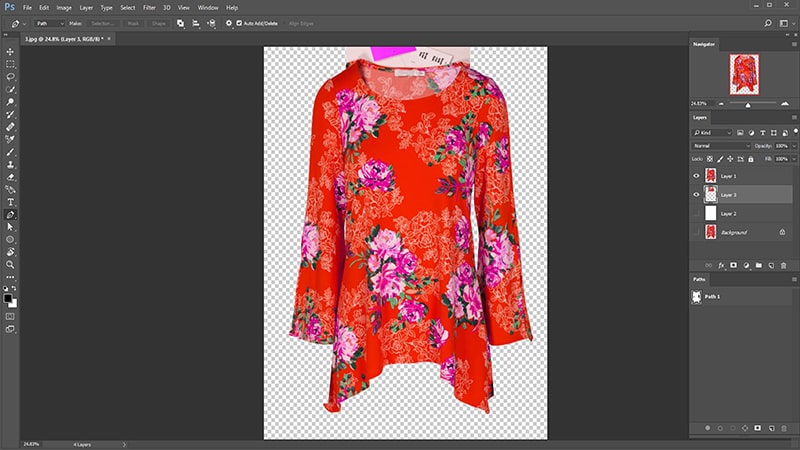 Now, moving the inner portion of the cropped part in front of the first image of the product, press Ctrl + A + C+ V together.
Step 08: Positioning Layer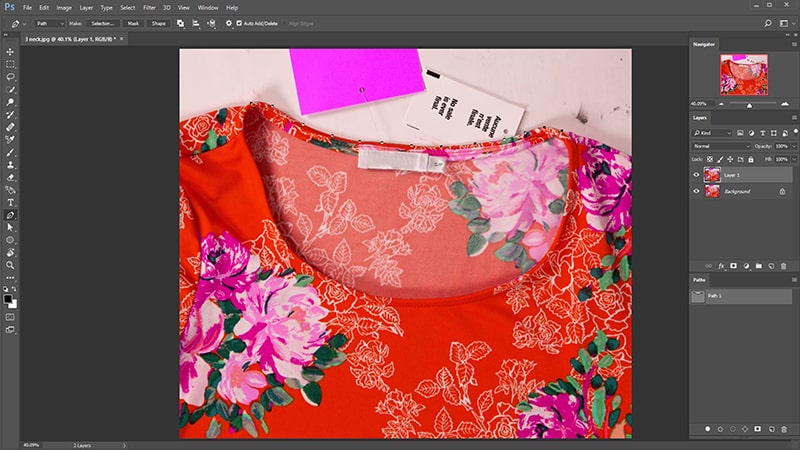 At this step, send the new layer under the first layer of the product's front side. Here it would help if you decided on how much product you require after you are confident the replacement was adequate. Choose the pen tool, cut through the portion you implanted from the top of the collar, and throw out additional clothing.
Step 9:
Fine-tune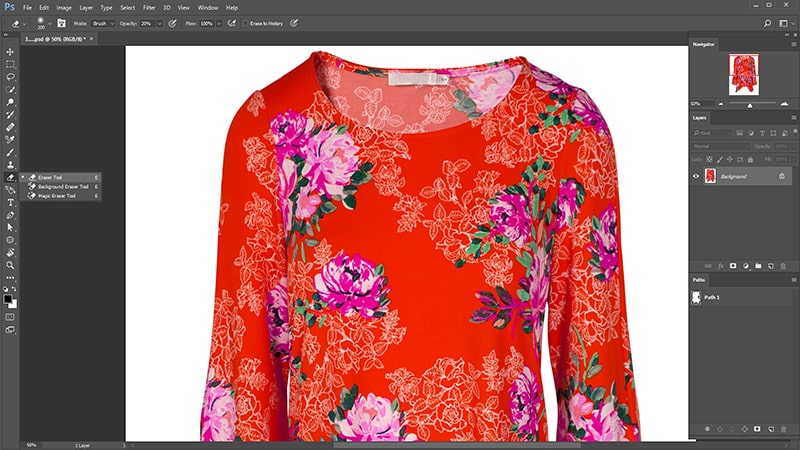 Now, you are almost done. Fine-tune is required in this process. To soften the uncut areas, choose the eraser tool. Also, you can add a shadow to give a realistic look. You can do a lot of things using Photoshop, such as ghost mannequin effect, photo manipulation, etc.
Step 10: Finishing Up With Creating Ghost Mannequin Effects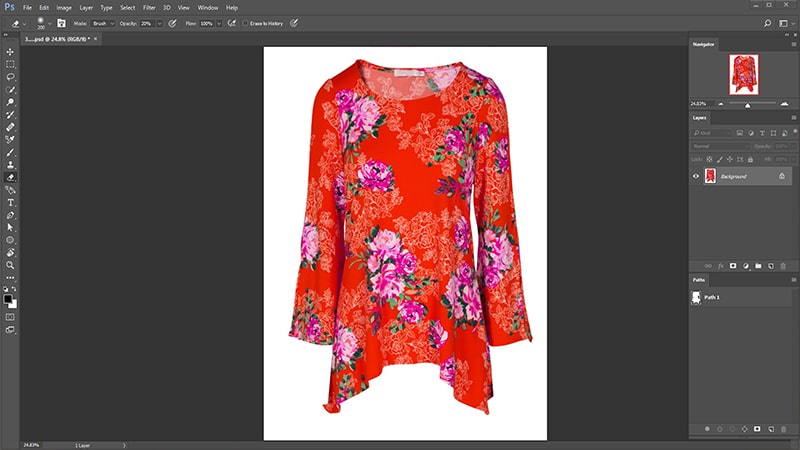 You can use the brush size 25 to append darker shades on the downside collar so that it looks more natural. Photoshop tools allow you to do anything on your photograph to get your expectations in the best way possible.
Areas of Specialization in Mannequin Cloth Image Editing
We have our dedicated clothes photo editors. They are specialized for only ghost mannequin product image cut-out and editing methods.
We skillfully edit garment clothing that shots taken transparently or see mannequins in order to show the items their best possible capability.

Sometimes this can be difficult. Because of the reflective glare that opposes the clarity of the material and thus disturbing the entire image quality.

We are qualified for photo editing clothes on wire mannequins that require a considerable time and effort to edit each picture.
We can edit pictures perfectly that taken on a model or dummy. Besides, We are able to merge two photos, first showing the product from the front.
After that, secondly turning in to reveal the brand label, giving a realistic picture of the apparel to your prospective buyers.
We can also edit and customize your top-quality dresses captured by 3D floating.
Moreover, displaying each dress beautifully with clear-cut

details.
Conclusion on Creating a Ghost Mannequin Effect in Photoshop
In this tutorial, you learned how to create a ghost mannequin effect by using Adobe Photoshop. Furthermore, how can you work with the best photos? First, you can take an easy picture and practice on it. When you use to doing it properly then you can do it in a complex image. That will help you the most. Also, Our dedicated designers can edit ghost mannequin pictures in a perfect way. Because they are working for only this part of photo editing. However, I believe you can get a better result by reading this tutorial. And make your work amazing. So, please if you have any questions about this tutorial then let me know in the comment section below.
You may also read:
How to Create And Use Clipping Path in Photoshop [ A Complete Guide ]
Best Photoshop Photo Editing Services for Photographers
Amazon Image Requirements: How to Optimize Product Photos
How To Photograph Clothing To Sell Online
Professional Product Photography & Post-Processing Tips for Beginners