Etsy is a great place to sell your homemade unique products. This virtual marketplace can create a miracle for your business if you can make a custom banner for your Etsy shop to impress the clients.
Etsy is a great place to sell your unique homemade products. This virtual marketplace can create a miracle for your business if you make a custom banner for your Etsy shop to impress the clients.
The first impression is the best weapon to bring engagement to your Etsy shop. So, creating an impressive shop front with a marvelous banner is mandatory.
But there are some limitations to modifying your frontline or banner space. That's why it is essential to ensure that your Etsy shop banner is truly outstanding & appealing to attract clients.
A beautiful banner is a key to bringing huge sales & generate massive traffic. A banner maker can easily make collage banners with simple graphics. Do you want to know how to make a custom banner for the Etsy shop?
Here is a step-by-step guideline to create a custom Etsy shop banner that can differentiate you from the ordinary shop.
In this competitive E-commerce business world, you can only sustain your shop with an exclusive storefront.
So let's learn how you can organize your storefront with outstanding Etsy banner ideas that help you to achieve the target & objectives.
Etsy is the best platform for creative people, as you can sell your handicrafts here. Talented entrepreneurs can sell everything, including their craft goods and jewelry items.
It gives value to your creative thought & innovative ideas. This is the best marketplace to sell innovative handmade items.
When you browse an Etsy store, you will discover a few photos that give you relevant information about the brand, including the brand location, reviews & sales frequency.
That image is known as a banner image. As it is the front, it dramatically influences your business.
To achieve success on the Etsy platform, your goods are essential, but you must consider other factors to establish your brand.
Most of the leading & popular Etsy stores follow a branding strategy & unique marketing structure that helps them to stand out their brand from the crowd.
The Etsy banner is fundamental to your shop branding. So, it is essential to know the perfect size of your Etsy banner & technique to make it eye-grabbing.
The accurate size for Etsy's large banner is 1200 * 300 pixels, which is the first thing viewers notice while visiting your store. This banner is also called a carousel banner in the Etsy store.
You must manage the perfection in the banner image to create a positive impression of your brand. So, give top priority to maintaining the ideal banner size.
Aside from large banner images, Etsy allows you to upload different size banner, that is given below-
Mini banner size 1200 * 160 pixels.
Big banner size 1200 *300 pixels.
You are creating a banner to attract the audience to your product. So, you must add product images to your receipt banner. When you collage multiple photos to give an overview of your product, you must also maintain the below image size.
2 images 600* 300 px.
3 images 400*300 px.
4 images 300*300 px.
When creating a small banner, remember to ensure quality & info optimization to make it fruitful & informative.
The pre-condition to derive a good banner is maintaining the accurate size for the Etsy banner. It helps you derive a full-resolution photo that ensures your banner won't be stretched or curled after uploading.
If you maintain the perfect size, the banner photo will be protected or bent after uploading, ruining your banner quality. On the other hand, when you use the ideal size, it will perfectly fit on the storefronts without any modifications.
As your Etsy shop frontline contains the large banner & small banner in the same positions, it is impossible to use both sizes. So, which size banner is ideal to use?
The best option is to use a large banner instead of a small one because the larger banner size will easily display both mobile & desktops. But the mini banner only shows on the desktop.
Making your own Etsy banner is fun if you know the best practices to make a perfect banner that displays your shop's objectives accurately.
So dive into the article to know the best method to make a lucrative banner. Creating a great banner will be super simple when you apply these methods.
Display Shops Details
When a customer browses your shops for the first time, you must inform them about your products, such as what you are selling, why that is special, product benefits & usage, etc.
See the below example. A client, at first glance, can realize that this shop deal with craft items. So, your focus is to make simplified details about your product.
You can add your multiple items in an organized & stylish structure. In addition, a diverse product range can easily attract potential customers to buy your products.
Besides adding product listings, you can add informative text to display the benefits of your products & why customers need them.
You can also highlight the business motto that helps the customer to rely on you. Try to attach customer value & specialty to you that can impress the customer quickly.
Keep It Simple
Simplicity can transform the frontline looks of your Etsy store. So it is always best to keep your banner simple which derives elegant outlooks. People can easily remind a simple design & It creates a positive impression on them.
Most of the famous shops use a simple banner. Because simplicity can easily grab the eyes & make a long durable impression on them, keep your banner as simple as possible.
But in your Etsy banner design your banner, ensure that the design is clean, cool & structured. Most importantly, use the high resolution to ensure the best outlook.
See the below images, simple images with a bit of text that effortlessly defines the shops. The color combination & unique design can easily attract clients.
The simple design focus on the brand name & its branding. White space is a trick to highlight the main concepts. So, you can apply white space in your design.
Adjust Color
Color is the most crucial thing when making a banner. If you use a contrasting color, it will derive a poor banner. You must avoid colors that reflect on the eyes. Instead, you should go for warm & cool.
Find the perfect color contrast that creates a fantastic pop-up to attract the eyes. Color is the key to holding the customer's eyes. It also helps you to highlight your products perfectly.
You can texture color or some bright colors against a dark background that pop beautifully like the below images.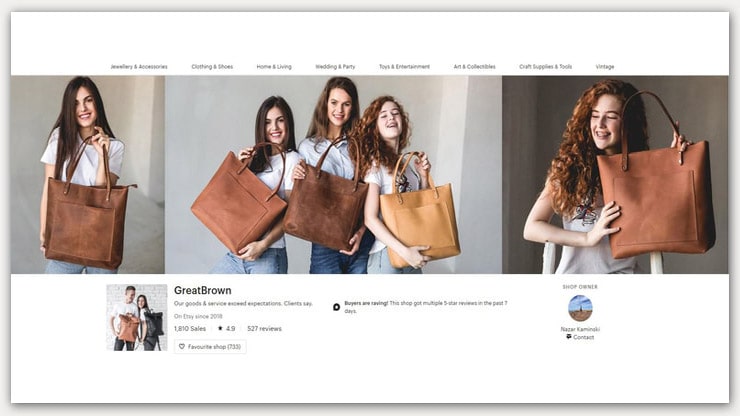 So, maintain proper color contrast while making your banner; otherwise, it won't attract the viewers.
Optimization
The Etsy banner aims to display your shop's objective at first glance. So, try to avoid detailed descriptions. Instead, optimize the detailed information & attach the short info that is enough to explain your business.
Optimization is essential to introduce your brands quickly. People need to understand what your shops are about at first glance to feel interested in viewing more. So, it's wise to attach optimized information.
Photography Style
To make your Etsy banner highly professional & standard, it is essential to ensure premier quality photography & a perfect style of taking product photos. Photography itself is a creative field.
As you are a seller of some innovative items, I think it will be easy for you to photograph them correctly. But if you fail to take pictures like a pro photographer, you can hire a good photographer.
As Etsy is a virtual marketplace where the picture is the priority. If you can impress with the picture, then secondly comes the quality. You must complete the first steps with good product images.
So, you need to photograph your items properly to derive high-quality photos.
Attaching eye-catchy products or profile photos to the banner will make the buyer tempted to buy your products.
But on the other hand, a high-quality image can describe a thousand words. So you easily avoid boring descriptions by attaching a good idea.
Try to create a unique standard photography style that can make your presentation different from others. Think outside the box otherwise. You can't win the race.
When introducing your photography style, try to maintain the consistency that is important to make the audience rely on your products.
So, you need to improve your photography skill to make a marvelous banner that is unique & eye-grabbing
Font Selection
Text is the heart of your Etsy banner. No matter how beautifully you design the banner, it will only be fruitful if you can attach relevant information. So, the text is a vital factor to make a banner.
It is ideal to use short optimized details, but the presentation needs to be classy & unique.
To present your text exclusively, you need to research different fonts & find out the best font style that matches your color & design concepts.
Besides, try to use a maximum of two fonts style in your banner that will reduce your loading time. Selecting the font style ensures that it's easy to read, attracts the buyers to read & reflects your business objective.
Give some time to find the matching font style with your business concepts. A perfect font can create an elegant outlook for your Etsy banner.
Here It is a Kids' Shop & looks like the font style matches the concepts. In addition, it results in an outstanding banner.
If you have ever made a banner or cover photo for your website or blog, then you know how much time it can take.
It's easy to make one with some basic design tools but if you want to make something really professional, you'll need more advanced software like Adobe Photoshop. This tutorial will show you how to make an Etsy shop banner in Photoshop.
Photoshop is a fantastic tool for Etsy banner makers. It is famous for its convenient tool, versatile feature & perfect design. Here I will share step-by-step guidelines for making an Etsy banner using photoshop.
Step 1: Open Photoshop
Open your photoshop. Now select -> File-> New.
You will find a new window. Give your file name here, such as Banner or as you like. The most important thing is to set your banner size. Now for the Etsy shop banner set the size as 1200 * 300 pixels.
As it is a web banner, set the Resolution as 150 dpi & select the color mode as RGB. That works fine on the web. Keep the background contents color white & now click on OK to create your project.
Step 2: Design Your Banner
Now it's time to design your banner. You can apply product photos, relevant text & illustrations to create a great Etsy banner. In this tutorial, we will make a simple banner that looks elegant.
So, first, from the toolbar, select the Rectangle tool & create a Rectangle. Now use the ruler to draw the lines so that you can have more rectangle that ensures similar height. Enter Cntrl + J to copy the rectangle & place it before the previous one.
Repeat this process two times. Maintain a minimum distance while placing the Rectangle. It will look like the below images.
Step 3: Attach Product Images
Now attach your product images in the Rectangle box. First, select the rectangle & now select File> Place> Choose your Image. After opening the image:
Place it on the rectangle.
Select the image & right click on the mouse & select "create clipping mask" to crucify the product images within the box.
Repeat this process for another three boxes.
Here the banner comes out.
Step 4: Attach the logo
Now Select File> Place> Choose your logo. Place the logo on the left side. Keep some white spacing before fixing the logo.
This white space helps to bring focus to your logo. From the toolbar, select the Text tool & attach relevant information about your brand.
Step 5: Attach Owner Images
After keeping essential white spacing, you can also attach the owner images on the right side. From the toolbar, select the Ellipse tool & now press shift to draw the circle. Select the circle & place the owner's image.
Now right-click on the image & select "Create Clipping Mask" to fix the owner's image within the circle. From the toolbar, select the text tool. Attach relevant info about the owner. See the below pictures how it looks like.
Step 6: Height Brand's Motto
From the toolbar, select the Rectangle tool & create a small rectangle in the middle height to attach the brand's motto. It's essential to grab the viewer's attention.
Use the Text tool to attach the slogan in the rectangle. Your banner is now ready to use.
So, if you follow the best practices method, you can easily derive a fantastic banner for Etsy shops or shop owners.
Now you need to save your work. Select File -> Save For Web> OK. It will generate small-size files that help you to your shop page quickly.
If you need more knowledge about color contrast & not good at photoshop, then It's better to outsource photo editing services to create your banner.
Especially when you need illustration, an experienced hand must use the pen tool accurately to illustrate perfectly. Your banner represents your brand. So, make some little investments for the betterment of your business.
Now you have done with making your Etsy shop banner. But it is essential to upload it ideally in your Etsy shop. Though it's effortless, I am discussing the method below-
First, log in to your Etsy Account. From the top menu, select the on Your Account link & it will open your account page
Now from the left side of the page, select the Info & Appearance links & it will open a new page.
Choose the Shop Banner Image Option & browse the file to attach your previously made banner.
After attaching the file click on the Save button & it will upload your banner image successfully.
If you want to view the banner, click on the shop icon from the header bar then you can see your uploaded banner like the below images.
I know a vast built-in banner template is available for use as an Etsy banner shop. When you use any template as your banner, it fails to maintain uniqueness. It has a high chance that other shoppers can also use the same banner.
Currently, there are 2 million sellers active in the Etsy marketplace. Can you guess the competition? Using any template banner can't make you stand out in this competitive business field.
Your banner is representative of your business aim & details. So, it needs to be unique & represent your business idea. For example, if you are a crafter, your banner will display everything about craft, but if you sell vintage, the banner will represent heritage.
The template will focus on something other than your business needs. Therefore, it will fail to represent the business objectives. Besides, the main disadvantage of the template is using imperfect colors.
Consequently, you need to apply a proper color contrast that matches your brand logo & an exclusive combination that enhances the beauty of your product.
Without any color contrasting absurd template color you select to use as a banner, it ruins the beauty of your beautiful creations.
Therefore, it's essential to check whether the color can magnify the beauty of your products. Then, you can play with color when you make your banner in Photoshop.
Though some template allows modifications, there are lots of limitations to modifying them. As you need to differentiate your brand from others, you must design a unique, exclusive outstanding banner that fulfills the requirements of your business.
When you use photoshop you can design from scratch, which allows flexibility & depth control to design outstanding banners. You can create an eye-catchy exclusive banner in photoshop with your own concepts.
That must ensure the diversity of your brand & make a positive impression on your shop. So, I recommend avoiding any banner template.
Now you know everything about Etsy Shop Banner & how to make a stunning banner. A professional banner is enough to impress visitors & convert them into customers.
If you can create an appropriate perfect banner according to your business type, then you must gain success in your Etsy shop. As it is a site for creative people, try to prove your creativity at the front to bring authenticity.
If you use your concepts & follow my guidelines to make the banner, you will create your own identity & It will make your branding lucrative.
You may read: