Do you know why cheap retouching services are bad most of the time? You can see that some of the photo retouching companies offer their work at a very low price, and some are with high pricing.
As a professional photographer, if you need high-end retouching services, what will you have to do?
You need to analyze the efficient photo retouching service in various ways. Affordable Price is a big factor. But, from my experience of retouching services for thousands of pro photographers over the last 15 years, I know they care about quality first.
Consequently, you want good quality service at a cheap price. Doesn't it?
There are probably a thousand online photo editing & retouching service provider promising to provide high-quality works at different prices. And you may be confused about choosing one.
Here, I'm sharing with you the essential things to consider before hiring an expert. Let's step into the shoes.
Using Cheap Retouching Services is Like Wasting Time
Don't waste your time spending with poor retouching service. If they don't have top-rated experienced retouchers, how could they provide you with better quality service?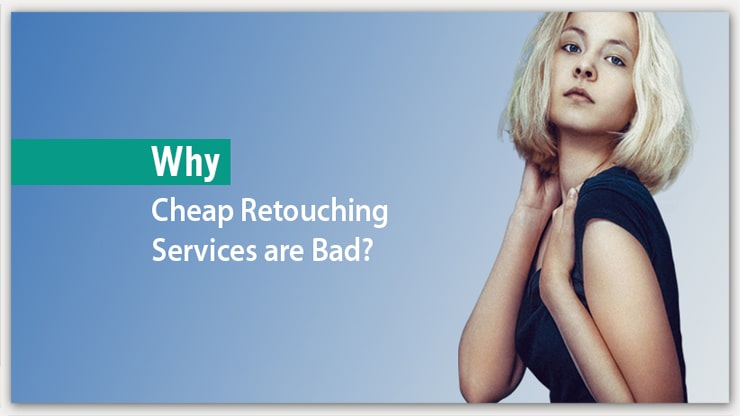 Suppose you are not satisfied with the current company that you are working with. For that, they provide you with their service at a cheap price that would be disastrous for you. So go away from there.
And try to find the best photo retouching service at a good price and quality service. And save your precious time.
You can see many types of photo editing service providers on the web. But you have to choose the best service in your discernment.
I'm giving you some clues on the problems you'll face if you choose a bad retouching provider company.
Lost Natural Look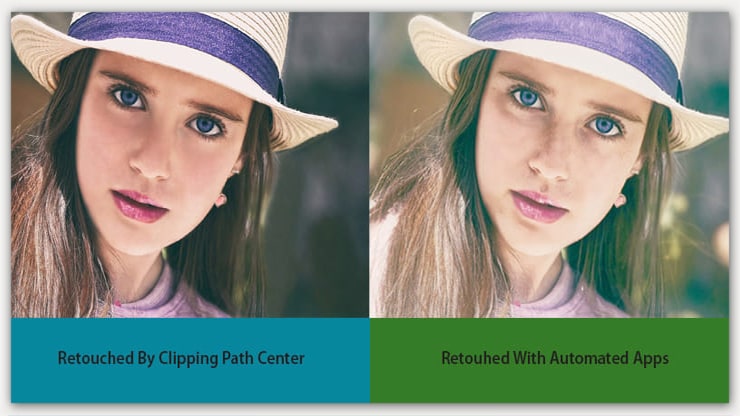 The picture will lose its natural beauty when you choose cheap retouching services because they do it quickly with their limited resources. And they don't have experienced people in their company.
So, the entire photos look unreal and blurry. See a natural look is very important. No one likes unreal or blurry pictures.
Auto Smoothen/Strengthen Software is Not Perfect
Cheap companies most often use automatics software to smoothen or strengthen. But manual and automated software that's a different things.
Manual software like photoshop, gimp, and affinity photo allows us to control, smoothen and strengthen levels.
This means one can easily adjust those properties by judging the need for a specific image. The auto or pre-made setting can't achieve what you demand.
The subject's skin may look unreal, the background gets blurry, or the model face in the image looks too smooth.
On the other hand, in terms of noise adjustment, if you do that by using automated software, then the noise adjustment won't work properly.
But if you do that from a good retouching expert, they do it by hand in adobe photoshop software. That would be amazing as well as attract your target audience's eye.
Presets and Plugins are Not Appropriate for All Images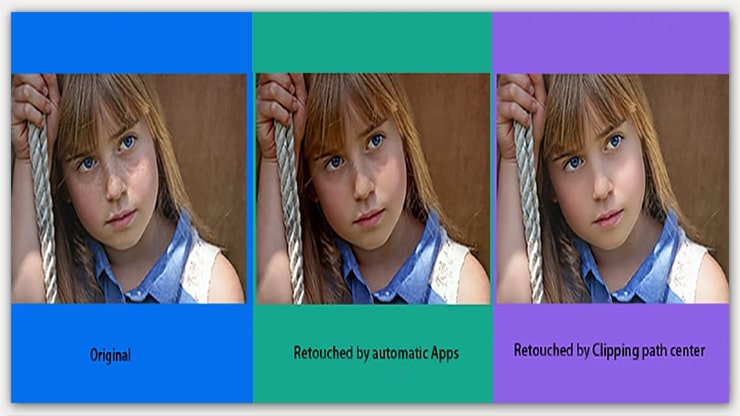 Professional photo retouching companies don't use presets to edit clients' pictures. They always think about two things. One is visualizing your clients desired result, and the other is they use their tools and software for their specific result or project.
Newbies are Editing Your Image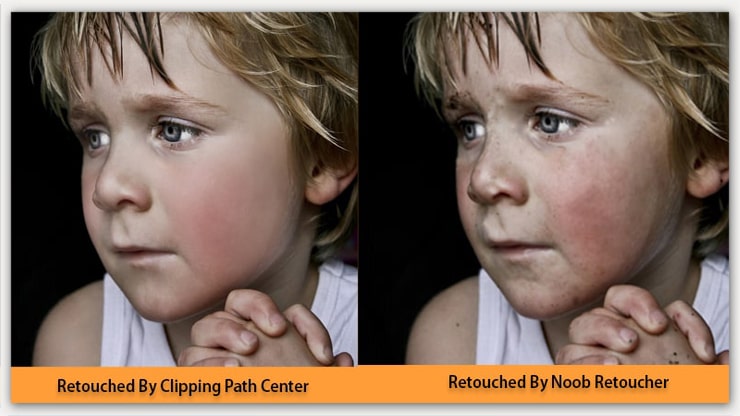 You may agree with me. If someone wants to hire photo retouchers cheaply, they probably hire a newbie. It doesn't always mean those beginner editors are not skillful. They are skillful but not very experienced.
You need to edit the photos from the best service providers in this photo editing field. That's why I can say that they don't settle for low-rate retouching jobs.
Photo Editing Mistakes in Cheap Retouching Service
If you are looking for a cheap retouching service, then you can find them online. But if you want to get high-quality results, you should be careful about choosing such services.
There are many photo editing mistakes that people make while trying to save money by getting their photos edited at home or through some online websites. Here are some common mistakes that you must avoid while doing photo editing yourself.
Now let's look at the common flows of cheap services.
Too Much Skin Retouching
Skin usually includes most of the time we dedicate to retouching portrait photos, and sometimes the 1st aspect that can produce or break the picture.
The physical properties of the skin vary greatly based on a variety of Skin Imperfections factors: the color of the skin, size of the pores, noticeable facial hair, blemishes, and scabbards.
Hair is also distinctive on various body parts, with a different texture, hair thickness, pore size, and reflections of occurrences of light and shadow.
But Cheap photo retouching services do their work very fast. And they give you the service very fast. For that reason, they can't make good quality image editing.
The Eyes are Too Bright
Most photographers want a contrast between the eyes of their subjects. In low price service providers do this mistake the most. They make the subject's eye too bright, which isn't look good.
That's why We use the dodging tool to lighten the eye's iris. Nonetheless, they shouldn't hit the mark when they do this because the eyes are sore. Be careful how much of the iris you lighten if you don't go to another worldly fairy look.
Color Tonality is Off
Since their tones are too distinct, many colors do not suit one another.
It happens most often if they try to divide the picture frame. It means the shadows and highlights colors are selected separately. Make sure the colors suit and ensure that the sound is the same. Some of it uses your hand. It means that your computer is properly calibrated.
And remember that, product photo retouching services are one of the main things that make good quality work.
Over-Cropping or Using the Wrong Aspect Ratio
The basic principles of composition involve leaving sufficient negative space in a photo. The picture will feel claustrophobic when the subject is too compositionally closed. Remember that the over-cropping of an image is a very common editing error.
Avoid that by removing the golden ratio and other composition principles in line with the rule of thirds. The ratio is a secondary problem of cropping. This is the area where photographers are troubled.
Your picture has to be the perfect size for printing pictures. The size of the printing press or the photo printer is wrong and leads to problems. So, learn more about selecting the right proportion for your photo here.
Too Much HDR
First of all, what is HDR stands for? HDR stands for High Dynamic Range. This kind of picture has a wide range of dynamic highlights and shadows.
If your subject goes beyond the camera's dynamic range, the highlights appear too white and clean. The dark ones also could get too dark and lose information. With HDR, you can put the highlights and shadows in the range you want.
Over-Sharpening
The camera's emphasis and the contrasting effect on your subject influence the sharpness of the pictures. To have a sharp picture, the contrast must be made. The subject won't look 3D unless there is little contrast in the frame. Whether or not the focus is fine.
For example, our vision identifies the sharpness of the edges. And it tracks the depth of a subject using shadows and highlights. Additional post-processing sharpening will make the edges more significant. I do so, too.
Moreover, so much sharpening can lead to unnecessary noise and halos. Not all of these are great photo addition! Also, don't seek to sharpen the focus. Without hours and highly trained to sharpen selectively, it won't work.
I recommend a high-pass filter be sharpened. Use no sharpening process pre-programmed. The high pass filter provides maximum control over your picture's edges and sharpening strength.
Why Can't a Cheap Company Provide You with Good Quality Service?
In inferior retouching services, they don't have a dedicated designer. For that reason, they can't provide you with good quality service.
They don't have that much capacity to make good quality work. If you want to get quality service, then you have to choose a reputed photo retouching service provider. They have dedicated designers who have that much capability to do that.
Truth About Cheap Retouching Providers
Most often, these types of services are not good because they often use presets, automated software, and tools.
So, what is presets? Presets are how Adobe Lightroom saves a set of editing adjustments because you can quickly start applying the same adjustments to multiple pictures.
For this preset, the images don't look good. And they lost their clients. Also, you will lose your clients if you get poor retouching services.
Furthermore, By using presets, your pictures will have many issues such as skin texture problems, burry images, Color tone problems, sharpness problems, etc.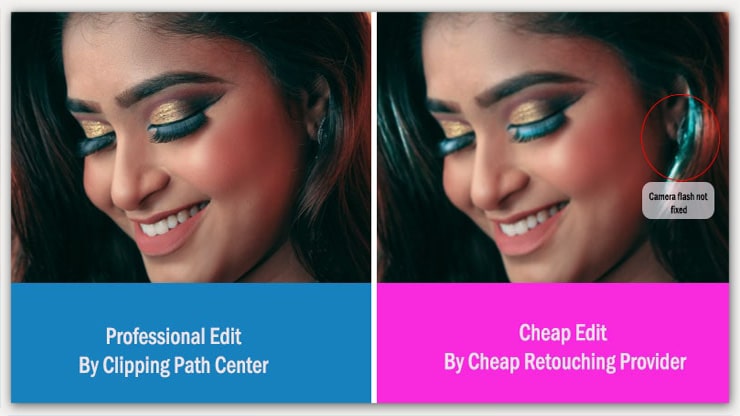 So, Don't Hire a Cheap Retouching Service, Do This Instead!
Retouching a photo is the last step in producing a good photo, and it adds that last touch of the artist. But when you edit the picture too much, you see that the pictures do not look real. It looks fake.
Retouching is like an art. You can do whatever you want. But do that work perfectly?
Fixed Price Retouching Providers
Sometimes the fixed price can be beneficial, or sometimes not.
But at a fixed price in basic retouching, they provide you a full package such as ( Light correction, red-eye effect removal, blemish removal, scar, pimple, acne, face skin smoothening, teeth whitening, color correction, and image cropping).
Suppose in basic retouching. You only need blemish removal, scar removal, and face skin smoothing.
When you go for a full package, they only provide you with what you need. Because your pictures have light correction and color correction like those types of editing, you are giving them a lot of money at a fixed price.
OR,
Flexible Price Retouching Providers
Flexibility is great. When looking for a flexible price, the service providers first analyze your every picture carefully. After analyzing those pictures, we will tell you the price. The price depends on what a picture looks like. Flexible price requires such as:
Quantity of Images.
The time it will consume during production.
Require Turnaround Time.
The complexity of the images.
Clipping Path Center provides a flexible price for each photo editing project. You can take a free trial to judge our quality and get a quote for batch photo editing and retouching jobs.
Conclusion
On the other hand, Some other companies provide good quality service at a surprisingly reasonable price. Because pros appreciate them, and they don't do any scamming.
They always try to provide you with better service. They have dedicated designers in their company. You can also trust them.
Read more: