Statistics said that a video increases the thrice probability of your sales. My experience finds that the people who watch the video are usually more interested in buying products than non-viewers.
E-marketer does research & says that customers prefer 4times more to watch the video rather than reading product descriptions. There are two million sellers on amazon. So you can easily feel the competition. If you want to win this competition, you need to be strategic & exclusive to display your item that can attract an audience.
A product video is the best way to visualize your product & connect with customers. It is thousands of times faster than text.
Now you realize the importance of adding video to amazon listing. It can bring a miracle to your business. If you are a seller on central amazon & don't know how to add video effectively go through this article.
Why Added Product Video in Amazon Listing?
Amazon launches the video adding a feature in 2017 to test the outcome. This feature is available only for the brand registered seller. After launching this feature, amazon finds that the selling rate of a seller who uses this feature increases to double.
So, it has become a popular feature to be a successful seller on amazon. Video is a way to directly communicate with your customer & represent single details within a short time. It is the best way to clarify every feature & remove confusion or any negative thoughts about the product.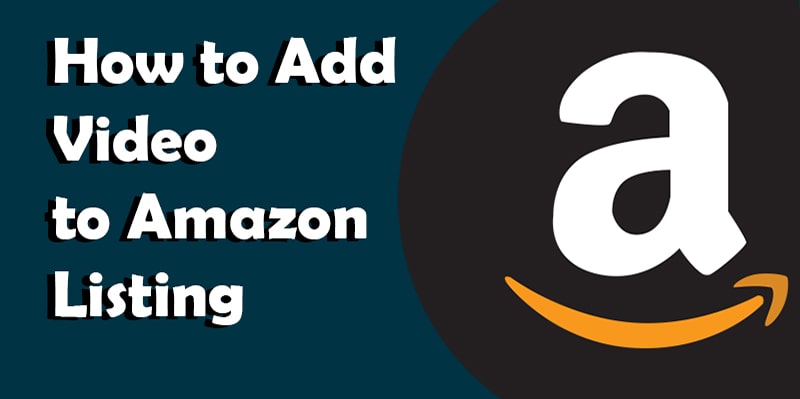 You can easily highlight the usage & benefits of the product using video.
The detailed instructions on how to use, when to use & why they need to use can be attached. This detailed information is helpful to visualize the products & convince the customers to buy your product. The attractive way of presentation & focusing on the product's needs make the client tempted to buy your product.
The exclusively you can display your product, the more likely people are to buy it.
For example: When you display a phone case in a flat position, it won't attract the customer. But if it is on a model or user hand & the stylish look can grab customer's attention moreover, if you added that how the case protects your valuable mobile & shows some example of a protection that brings customers more than a normal cover picture thrice.
Video is a way that is convenient for the customers & reaches you quickly to the target audience.
Amazon Product Video Guidelines: Find Out What Videos are Eligible for Uploading
You must follow these guidelines to add a video to the amazon listing perfectly. If you maintain these guidelines, your video must be approved.
Video Requirements to Upload a Video
The amazon product video must fulfill some requirements to maintain quality. That is attaching below.
The supported video format is Mp4, 3GP, AVI, AAC, FLV, MOV, or MPEG-2 format.

Thumbnail Image must be above 5MB. The accepted aspect ratio is 16:9, and the format can be JPG, PNG, GIF or BMP.

Video Title can max 100 characters.

ASIN can be single or multiple & must be related to the listed products.

The standard video aspect ratio is 16:9. The amazon product video size must be above 1280*720 pixels.

Shot the video with RGB mode.

Attach your own brand logo.

The amazon product video length should select 30-45 seconds. Because the long video above 60 seconds won't attract the viewers. The rate of watching videos is high when you use 30-45 seconds video. So, you can use this length to get more audience.
Avoid the Below Terms in the Time of P
roduct Listing
You must follow the guideline strictly to upload the amazon listing video. You always follow their rules & avoid any kind of violation of policy.
Added any seller product.

Using other prices to compare your price is low.

Use misleading information like the #1 seller or a best seller on amazon.

Using another company's logo, picture, name, etc.

Any links to another website.

Disclose any personal information
Add Youtube Video To Amazon listing [Step By Step]
You can upload your Youtube video to amazon listing if the video quality fulfills the requirements of amazon.
In the case of high-quality video, there are no restrictions for uploading your Youtube video. You can easily download the video & upload it to the Amazon listing. But first, you need to download it. You can't share any link from Youtube. It is against amazon's rules. So You can attach the Youtube link in the instructions manual only.
The detailed requirements to upload a video to the amazon listing are discussed below. Read to know the details.
Amazon Listing Video :
There are three ways to upload the video to the amazon listing. The requirements are depending on the way you select. The details are given below for each method.
Amazon Enhanced Brand Content:
Firstly you need to be a brand registered seller to upload the enhanced brand content listing video.
Uploading EBC videos at Seller Central
From Amazon Seller Central Account click on Advertising & from the pop-up, select Enhanced Brand Content.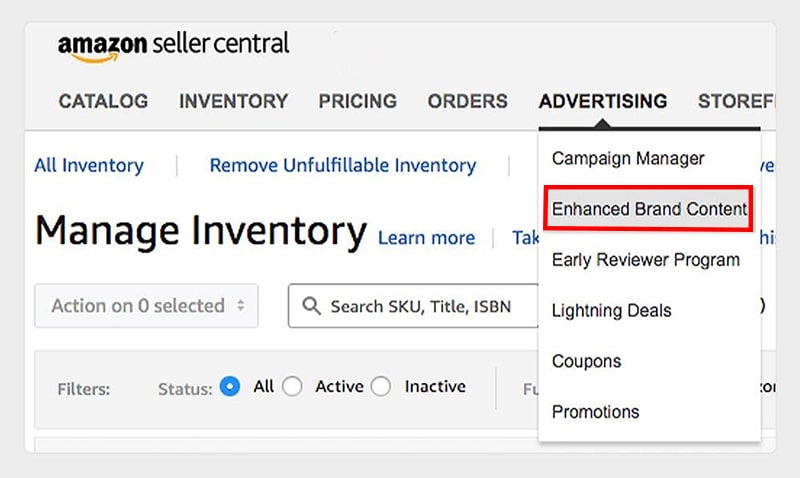 Now enter your product SKU number & select "Get Started" to find your product.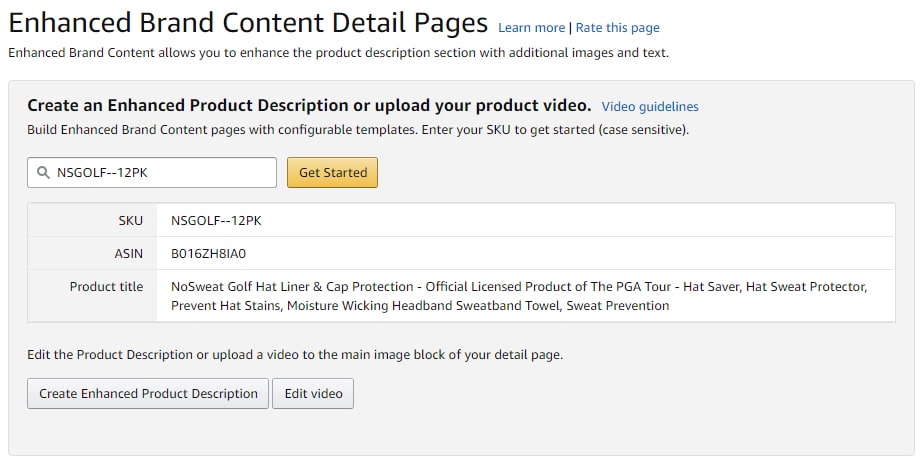 After completing the search, the product will be shown to you. Select the "Add Video" button.
Now choose upload video & select the files. Click on Add thumbnail to add the video thumbnail. Give a relevant & appropriate title that attracts customers. Also, write a description of the product video—that summarizes the video & helpful for the viewers. Finally, click on "Submit".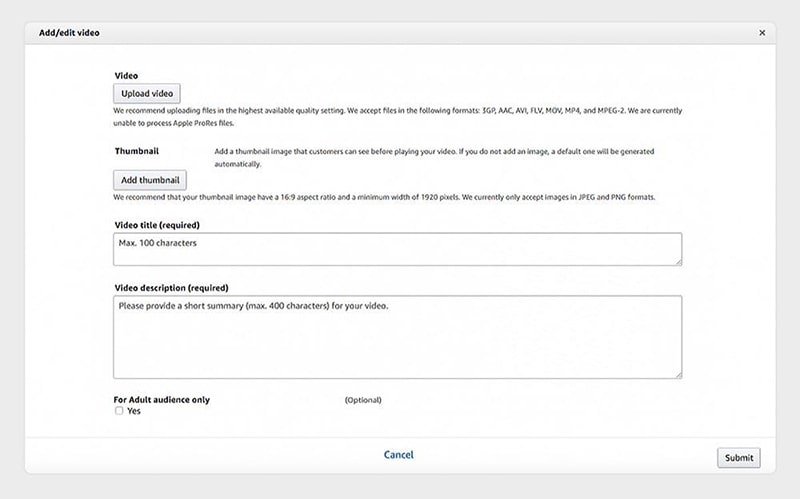 It may take 24 hours to live your video to the detail page. So, you need to wait.
Bonus: How to remove the video from the listing.
You need to click on the Enhanced Brand Content dashboard & check the "delete Video" & submit the changes. It will remove the video within 24 hours.
Amazon Video Listings With Vendor Central:
It is one of the difficult ways to add video in the amazon listing. You can join the vendor central only if amazon gives an invitation.
It will happen if you cross $1million in sales with good customer feedback that is not so easy.
If you have a vendor central account, this process is for you to upload videos in the product listing.
You need to upload a video file that can transfer easily like Dropbox. After uploading just copy the video link to the clipboard.

Now log in to Vendor Central Account & select "Contact Us" from the right corner. Select "Images & video" from the first drop-down menu & choose "Video upload issues" from the second one.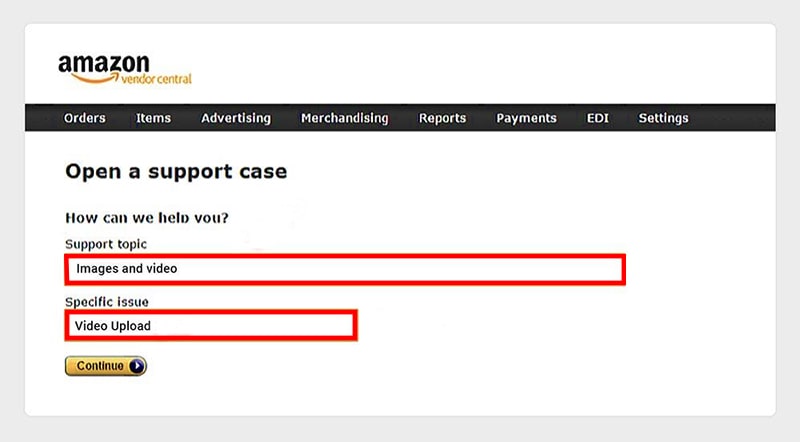 Then replace the case title to Upload Video & paste your video link in the "please describe issue" box.

Paste related ASIN & select the "submit" button to upload the video.
Amazon will add your video listings within 24-74 hours. But they won't give any notification after approving. You need to check it manually. After approval, the video will show on your product list.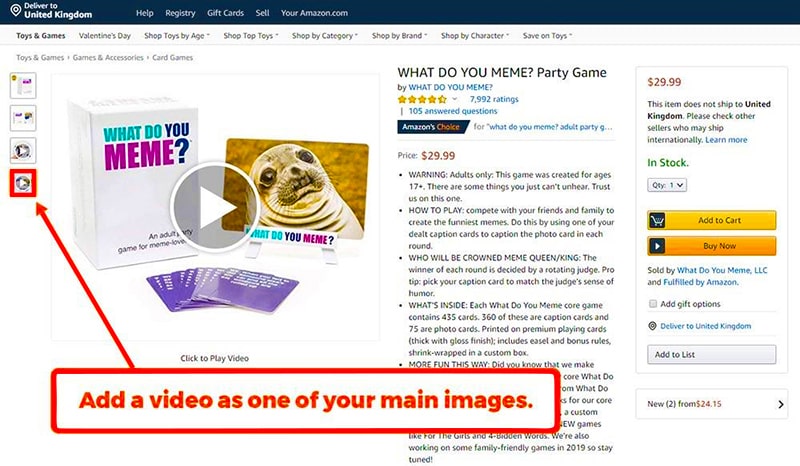 Amazon Video Uploading Hack: Upload Videos Without Brand Registry:
It is the most common question of a new amazon seller that if they don't have any registered account how do they upload the listing video. Don't worry I am going to share an easy process for the newbie amazon seller to add a video to the amazon listing.
If you don't have your brand registration, this is the only way to upload your listing video. You need to take help from Fiverr or Jungle Scout Market.
Go to the Fiverr website. From the search bar just type "add a video to amazon listing".

Choose the best options & reasonable services for you. It can charge from$30-$100. The charge is depending on the video placing area.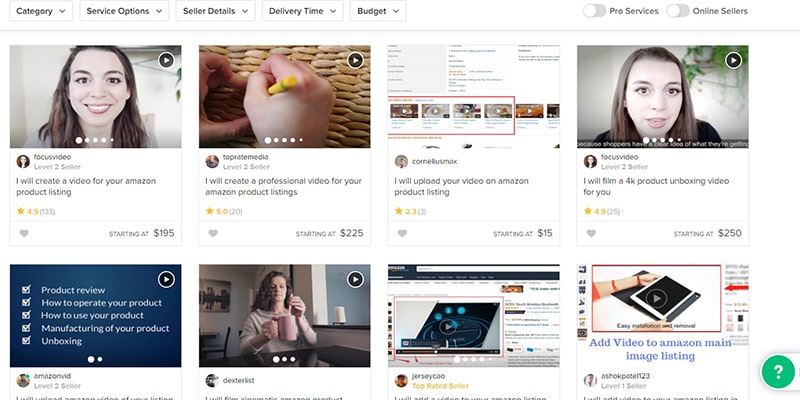 Here the people offer the services brand register seller. They have the ability to upload videos. So they offer these services to earn quick money.
They will upload your video in your product listing in exchange for money. If you use the platform jungle scout market, all the steps are the same, just type jungle instead of Fiverr & that's it.
Final Thoughts On Added Product Video in Amazon Listing
Added amazon listing video is an amazing idea to make a trust-bridge between seller & customer. You can easily convert their interest into a sale by an effective video.
However, if you are a beginner, the Amazon image requirement guide can be helpful. Hence, we also have another guide on the Shopify image guideline.
Video marketing is a popular trend that is essential to be successful. So, you should follow the above idea & guidelines to upload your video properly.
You can choose the process according to your needs. My guideline will protect you from any kind of rule violations that is harmful to a seller. Why are you waiting? Added video to your amazon product & see the magic. It will definitely make your business bigger. It is the key to create your own brand identity.
You May Also Read:
Selling Photos on Etsy: How To Earn by Selling Photography
Importance of Image Editing on Social Media Marketing
Best Photoshop Photo Editing Services for Photographers
Why Cheap Retouching Services are Bad?
10 Steps to Create Ghost Mannequin in Photoshop [Helpful Tutorial]